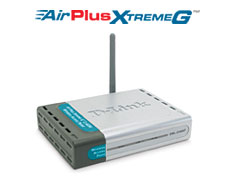 Last month i install D-Link AirPlus Xtreme G DWL-2100AP, i think its better access point to use in Office/Home, with high speed WiFi (up to 108Mbps) and working as:
Access Point (as i use it).

Point-To-Point Bridge.

Point-To-Multipoint Bridge.

Repeater.

Wireless Client.
i use it as Access Point now to connect Prtable Toshiba-L10 and my Mobile Phone iMate-PDAL to my local home network, and i fell the power of my WiFi after i testing Internet High Sopeed HotSpot, and access to it from any device by wire/wireless kind of network, i like it.